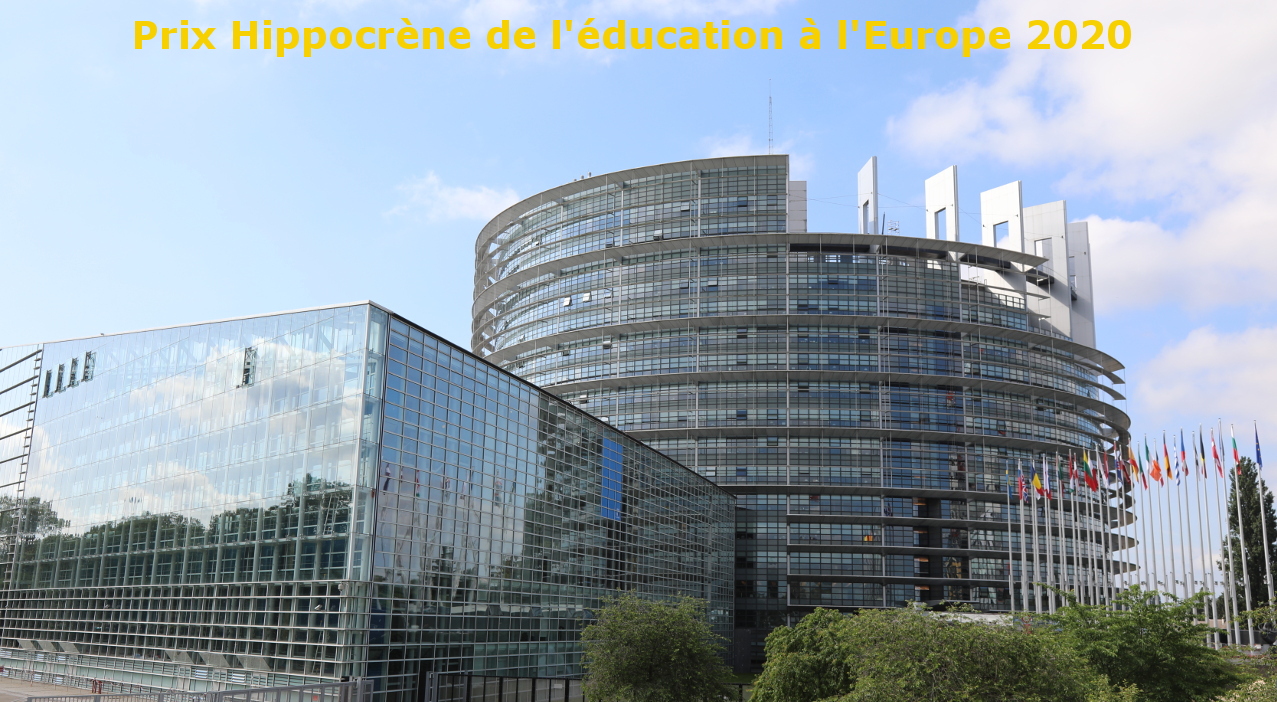 The winners of the Hippocrene Prize 2020 in video!
Congratulations to the 2020 winners of the Hippocrene Prize for Education in Europe


The Grand Prize (worth €10,000)

Hurlevent vocational high school, Behren-lès-Forbach, for its project "Together, on the paths of Europe," Nancy-Metz academy


Elementary school category (in the amount of €5000)

Lazare de Baïf School, La Flèche, for its project "Echange La Flèche-Ausbourg", academy of Nantes


Category middle school (in the amount of 5000 €)

Antoine Delafont College, Montmoreau, for its project

"ENABLE: European Network Against Bullying in Learning and Leisure Environment", academy of Poitiers


Vocational high school category (in the amount of €5000)

Lycée des métiers de l'hôtellerie restauration Belliard, Paris, for its "Inclusion and pedagogical innovation" project, académie de Paris


General and technological high school category (in the amount of €5000)

Plaine de Neauphle High School, Trappes, for its project "Highlight DJ: Don Juan emois, et moi…", academy of Versailles


Agricultural education category (in the amount of 5000 €)

LPPR de l'Ain, Villars-les-Dombes site, for its "Culture of care – Animal welfare" project, Auvergne-Rhône-Alpes region

Jury Composition

Michèle Guyot-Roze, Vice President of the Hippocrene Foundation, president of the jury

Véronique Auger, President of the Association of European Journalists and President of Citoyennes pour l'Europe. Former Editor-in-Chief of the Avenue de l'Europe on France Televisions

Valérie Baduel, Assistant to the Director General of Education and Research, Head of the Higher Education, Research and Innovation Department (DGER), Ministry of Agriculture, Agrifood and Forestry

Didier Déon, Communications Officer, Delegation for European and International Relations and Cooperation, General Secretariat, Ministry of National Education

Caroline Devineau, Communication officer, partnerships and social networks All Europe

Hélène-Marie Maechler, Administrator of the Hippocrene Foundation

Marie-France Mailhos, President of the European Education Association-France

Sabine Masquelier, President and founder of the Chœur à l'ouvrage endowment fund

Martine Méheut, Honorary President of Citizens for Europe

Dorothée Merville, Director of the Hippocrene Foundation

Natacha Paris-Ficarelli, Head of Department Cycle des hautes études européennes Direction des Affaires européennes de l'ENA and President of the Maison de l'Europe d'Alsace

Pascal Piqué, Director of the project management department, Erasmus + France / Education Formation Agency

Marion Plaza and Céline Yamaguchi, Communication, partnerships and networks officers at the Representation in France of the European Commission

Christophe Préault, Director of Toute l'Europe

Philip Simmonds, Former DAREIC of the Académie d'Amiens

Mélanie Tournier, Chargée d'études, Département de l'UE et des Organisations multilatérales, Délégation aux relations européennes, internationales et à la coopération, Ministère de l'Education nationale

The Hippocrene Prize celebrates its 10th anniversary

March 2020 marks the 10th anniversary of the Hippocrene Prize. A look back at 10 years of smiles and stars in the eyes for the winning students and their teachers

 
Why participate in the Hippocrene 2020 Prize ?